Camp or Camping?
The camp is open until September 10, 2023 and check-in is by self check-in.
With the name Camp Immeln we want to awaken curiosity and a sense of adventure. The proximity of the wonderful nature, the lake and the beech forests invites you to enjoy the adventures.
Welcome to the family and dog-friendly camp where there are cabins, pitches with electricity and of course also tent sites. We hope you will enjoy living with us and your neighbors. Many nice acquaintances start with a hello and a smile...
At Camp Immeln there are many different options for overnight stays. From a simple tent site by the lake to a luxurious canvas tent with a double bed and everything in between. Come and spend wonderful summer days with us and enjoy all the activities around.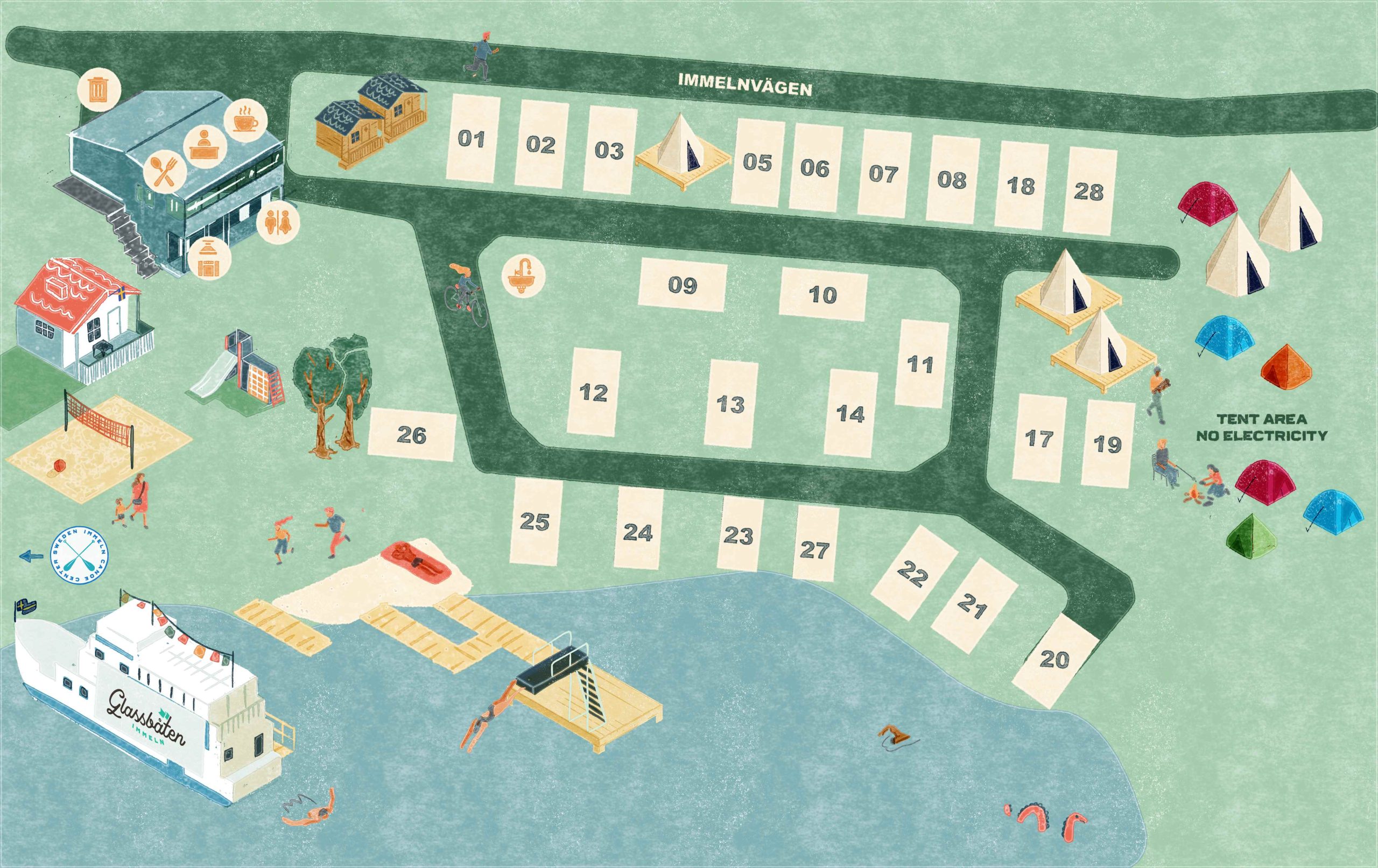 Off season
1 May - 8 June 2023
Pitch without electricity (250 SEK/night)

Space for caravan, motorhome or tent with electricity (from 300 kr/night)

Tipi with room for 4 people (from 400 kr/night)

Tipi with room for 6 people (from 600 SEK/night)

Small cottages with fridge and bunk bed (600 SEK/night)

Large Camping Cabin with two bunk beds, own kitchen and toilet. (900 SEK/night)

Glamping tent with space for up to 4 people (from 1500 kr/night)
Peak season
June 9 - September 10, 2023
Pitch without electricity (300 SEK/night)

Space for caravan, motorhome or tent with electricity (from 400 kr/night)

Tipi with room for 4 people (from 600 SEK/night)

Tipi with room for 6 people (from 800 kr/night)

Small cottages with fridge and bunk bed (900 SEK/night)

Large Camping Cabin with two bunk beds, own kitchen and toilet. (1200 SEK/night)

Glamping tent with space for up to 4 people (from 1500 kr/night)